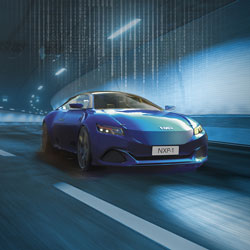 Vehicle Integration Platform Accelerates Software Development
25-02-2022 | NXP | Automotive technologies
NXP Semiconductors launched the S32G GoldVIP to help address the real-time and application development challenges of software-defined vehicles using S32G Vehicle Network Processors. This revolutionary vehicle integration platform offers multiple value propositions for S32G processor evaluation, software development, and rapid prototyping efforts. Users can observe its out-of-the-box performance with real-time use cases and resource monitoring. Pre-integration of NXP, open source and third-party software, including secure cloud connectivity and OTA update services, allows developers to focus on building new connected vehicle services rather than infrastructure software. Combined with the S32G reference design board or the GoldBox service-oriented gateway reference design, users can more easily deploy rapid product prototypes for desktop, lab and embedded applications.
Its pre-integration provides a hardware-agnostic platform to allow developers to immediately create new vehicle services. GoldVIP integrates the company's S32G Standard and Reference software and Xen Project Type 1 hypervisor to deliver isolated Linux virtual machines. The vehicle integration platform offers a high degree of flexibility and adaptability based on the Linux ecosystem and supports the deployment of Linux applications in the user space. It also provides a rapid prototyping environment with Java and Python supported by local and remote cloud GUIs and secure cloud connectivity.
Partner software integration includes Airbiquity OTAmatic client for OTA updates, AWS IoT Greengrass V2 runtime environment for secure cloud services, classic Elektrobit tresos AUTOSAR platform, and detection and prevention system Argus cybersecurity intrusions for CAN and Ethernet.
It can evolve by integrating new capabilities to meet the demands of emerging markets and continue to support customers' software-defined vehicle efforts. NXP plans to extend GoldVIP with support for the AUTOSAR adaptive platform, ML inference with support for the NXP eIQ Auto Deep Learning tool, and container orchestration to streamline the deployment of vehicles. The platform may also expand the integration capabilities of additional partner software in future releases.
"The new S32G GoldVIP offers a tremendous level of software integration and information that can accelerate silicon evaluation and software development efforts by our customers and partners," said Brian Carlson, global marketing director for vehicle monitoring and networking at NXP. "GoldVIP raises the bar for enabling software on silicon to meet software-defined vehicle needs and provide a scalable platform for the rapid development of new vehicle services."