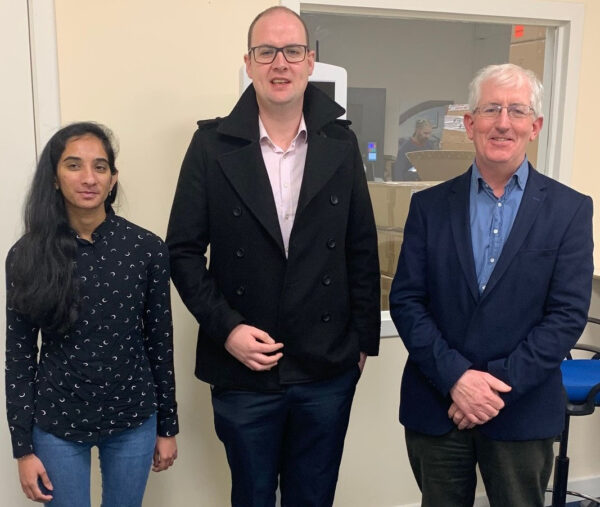 NWRC backs software development at Dublin tech company – Derry Daily
Store Computer Technology (SCT), based in Dublin, has developed a unique software system with the help of the Business Support Center (BSC) of the North West Regional College (NWRC) and the Innovation Boost program of InterTradeIreland.
The cross-border collaborative project between SCT, InterTrade Ireland Innovation Boost graduate Greeshma Puttagunta, and NWRC electronics and ICT technical consultant Cathal Ferry, has seen the development of a software system that enables the company to provide its clients detailed data analytics regarding key performance indicators (KPIs), sales statistics, supplier and project information that are invaluable to their business.
Cathal Ferry, NWRC, said: "We have been contacted by InterTrade Ireland Innovation Boost consultant Jim Fitzsimons about an innovative project with SCT.
"We contacted John Hogan of SCT and began discussing the project which led us to submit an application.
"Shortly after, we learned that our application had been accepted.
"The position has been advertised and we have won an excellent candidate in Greeshma who has met the challenges of the role head-on.
"With the support of NWRC and TBS, Greeshma was able to successfully develop the Data Analysis and Reporting Platform (DART).
"This system allows SCT to streamline its processes and provide detailed reporting to its clients while simultaneously maximizing staff time, allowing SCT to secure additional contracts and achieve its growth potential.
"The project enabled NWRC to extend and apply its knowledge of data analytics, data visualization and automation platforms such as Power BI.
"This ensures that the College continues to ensure that our latest knowledge and teaching is relevant to the latest industry trends and that our students have the best experience possible and will help them secure a fulfilling career after graduation. "
John Hogan, Director of SCT, added: "As one of Ireland's leading IT services support companies for businesses, who are leading players in the retail and leisure sectors, it is important that we continuously understand and plan for the ever-changing technologies in this area. .
"The main driver of change in retail technology is firmly based on data analytics. We had understood for some time the need to provide our customers with a solution in this area, but were struggling to find resources and direction that would allow us to achieve a satisfactory result.
"We discussed our project with Intertrade Ireland as part of their Innovation Boost program and found it to be an ideal collaborative approach as it offered access to 3rd level industry consultancy expertise in plus providing funding for the employment of a trained software developer.
"During the 18 month period of the program, Cathal Ferry (NWRC) provided invaluable direction to our excellent graduate, Greeshma Puttagunta, helping us release our solution on time and within budget.
"We could not have achieved our goal without Intertrade Ireland and NWRC."
For more information about SCT, visit: https://sctpos.ie/
And for more details on how the BSC can help your business, email businesssupport@nwrc.ac.uk or, to find out more about the Innovation Boost program, visit: https://intertradeireland.com/innovation/innovation-boost
NWRC supports software development at Dublin technology company was last modified: April 20, 2022 by cassoscoop
Keywords: