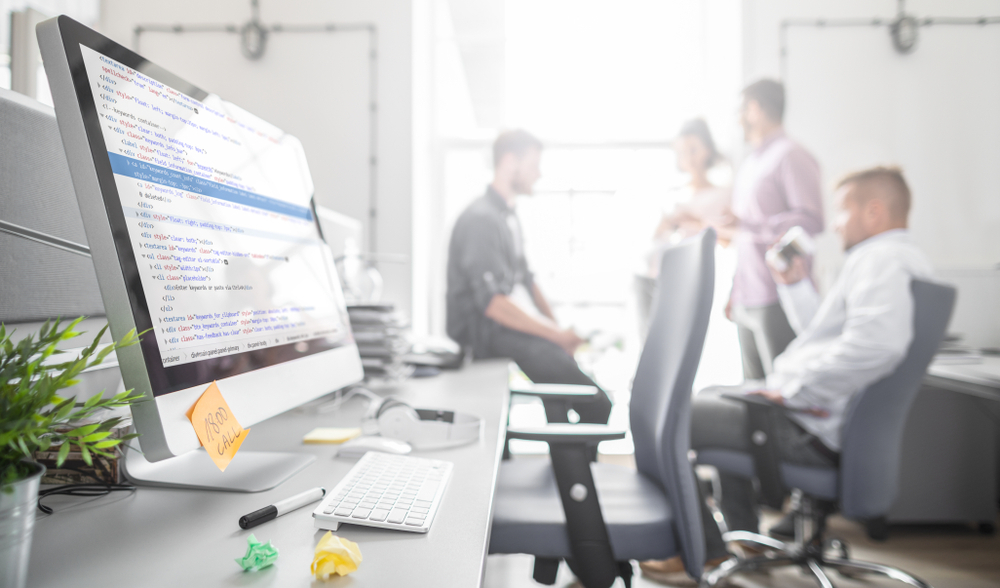 How to choose a software development company for your business?
As crucial as this decision may seem, it is also very difficult to make. You need to see if they fit your budget and are suitable for a business of your size. Apart from these, there are other factors that dictate the choice.
Businesses in the United States, regardless of size, strive to serve their customers in the best way possible. They tend to streamline their business operations so that the product or service is not influenced by lack of communication or productivity. In today's era, US-based businesses are taking great advantage of software to organize their business and produce state-of-the-art products. They rely on teams skilled in their ability to convert codes into highly functional digital solutions. However, the key to reaping the benefits of well-developed software is choosing the right software development company near you.
As crucial as this decision may seem, it is also very difficult to make. You need to see if they fit your budget and are suitable for a business of your size. Apart from these, there are other factors that dictate the choice. If you're not sure which features make a software development company the right choice, we're here to help. To choose the ultimate team, watch their:
Preference for Agile methodology
Every entrepreneur wants to see their business grow. However, for an organization to grow, it must ensure that its operation does not impede the process. When choosing a good software development company, it is crucial to see their way of working to testify that their product will not limit your success.
Agile methodology is the art of project management by dividing it into different stages. It has become one of the most important project management tools within US-based companies. It involves various elements, including stakeholders, and facilitates changes at any stage. Therefore, it is able to detect an error and correct it in due time. By leveraging the Agile methodology, companies can work efficiently and produce effective solutions on time and on budget. Thus, both a software development agency and a web development company in usa take preference over those who don't use Agile and should be your ultimate choice.
Profitability
While it's not unusual for businesses to choose low-cost services over high-quality solutions, it can be a risky decision. The term cheap is not related to cost effectiveness and can compromise the quality of the solution you get. Software development companies that offer products at too-good-to-be-true prices might end up scamming you. Their product may lack quality testing before deployment, reducing its effectiveness. Likewise, these developers may not provide you with ownership of the source code and you will have to pay additionally. Therefore, you should look for software companies that offer moderate prices. Too high costs can offer flawless products but can damage your burden. However, profitable services not only generate great products but also give you peace of mind.
Work portfolio
Checking the work portfolios of companies you have restricted is also a feasible option. It helps you access expertise, areas of experience, and reach first. Software development companies that have worked for both large and small and medium enterprises are able to adjust their operation according to the client. On the other hand, companies that have only worked with high-end clients or SMBs are better able to work with complex ideas and smaller budgets, respectively. It provides an overview of the scope of the software development services in usa to help you make the right decision.
However, when reviewing work portfolios, it's also important to remember that this doesn't fully speak to their abilities. If a company hasn't worked with a client with a similar market niche to yours, that doesn't mean they can't. Their portfolio speaks to their efficiency in handling complex tasks, limited budgets and the number of clients they can handle. Additionally, many companies sign an NDA (non-disclosure agreement) that prohibits them from disclosing their client. Therefore, chances are that they have worked with a company with a similar niche to yours but cannot view it.
Company size
You need to consider the size of the business when developing software to be an effective solution for complex projects. A small software company may not take on larger, more complicated projects, while a larger company may find smaller projects laborious. In fact, the latter may not even infuse that personal branding and customer service into your interactions. This would make it difficult to acquire software suitable for your purposes.
However, on the other hand, a small software development company can be the perfect choice. They create the ideal mix of bespoke service with the latest resources needed to develop an effective product.
Choice of technology
The world of technology is constantly changing, which is why choosing the right tools is important. This shows that your web development company and software development agency stay up to date with the latest updates. It is important to ensure that the agency you choose adapts quickly to changes. Many companies tend to revel in specific applications that can be beneficial or disadvantageous. It will depend on your need.
To make the right choice, research how well your company of choice keeps up to date with the latest developments and incorporates them vigilantly into its services. Next, you need to rate their experience.
However, before doing this, we suggest you determine the level of technical expertise you need. It would also require you to assess the kind of technologies and software systems you need. If you are a relatively new business, you can rely on a software company that is also on a smaller scale and figure out the best technology options for you.
Geographical location
While it's not too important where the software agency comes from, it's something to look into. Certainly, technology has facilitated communication between businesses in different parts of the world. Conference calls, video calls, emails and other applications have made it easier to share opinions and make decisions.
However, matching your schedules can be quite inconvenient. Not only that, but if your software development partner is in another part of the world, you need to make sure you both have a common language. Fortunately, there are companies all over the world that belong to countries where English is a second language. This is especially true for businesses in the United States. They will certainly need companies with a perfect command of English for better and faster achievement of objectives.
Reviews and testimonials
Customer reviews and references are essential in confirming the quality of a company's work. It is a measure of how many customers the company has worked for and delivered the quality they were looking for. In fact, it can also give us an idea of ​​their shortcomings as well as their expertise. You can then decide if you want to associate with them and if this association will prove fruitful. In the United States, businesses and customers make a point of looking at reviews submitted by previous users.
For reviews, you can either check the company's website and social media pages or turn to a third-party website. Websites like Clutch, App Development Companies, Good Companies, and Enterprise.com are great for providing legitimate reviews. You can see company ratings, minimum project scale, expertise, number of employees and hourly rate on these apps.
Customer reviews are important because you can make valuable, long-term decisions on aspects such as service quality, timeliness, and cost. These would ensure that you get your money's worth while maintaining a long partnership over the years.
Conclusion
Evaluating a company's approach to achieving its clients' goals is important in choosing the right software development company. Do they provide the security you need and understand your business goals? If the answer to all of these questions is a resounding yes, then you have the right agency in front of you.
Press release distributed by The express wire
To see the original version on The Express Wire, visit How to choose a software development company for your business?